by Cassidy Pfister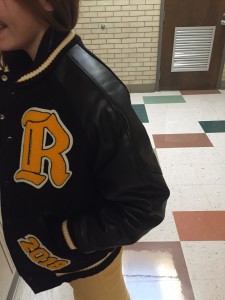 Letterman jackets, an ornamental form of apparel traditionally worn by high school students to show team pride and to display personal awards, are mostly achieved in athletics. Unknown by most Roy High students, however, is that letterman jackets are not only available to participants in athletics and extracurricular activities, but also to students who excel in academics, such as math, english, history, and science. Teachers Ryan Waite, Michele Kersey-Smith, Jason Grunander, and Ashley Strong give their input regarding this reward system and the requirements they have established for achieving  a letter in their core classes.
Students have had the option of lettering  in academia at Roy High for over 25 years, however it was recently reorganized and reintroduced to the school by our core class teachers upon request from the administration around 3 years ago. This evolving is due to changes in common core, and development in academic requirements set by the state. Waite said this in regards to the revisions in the lettering program, "Administration asked the departments (the PLC's), to put their heads together and come up with the standards for an academic letter for each discipline so that kids can find a different way to letter, in addition to the athletic letters that have always been here."
Athletes attending Roy High that are outstanding examples of sportsmanship and strength, are given opportunities to complete certain tasks relating to their sporting events; and in return, they can acquire a letterman jacket. These jackets are seen as a symbol of leadership and dominance in these students' fields of athletic expertise. Nevertheless, why is it so common for letterman jackets worn by studen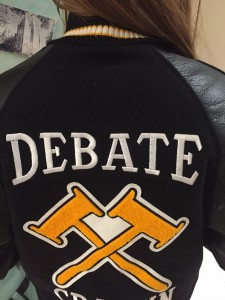 ts in the Roy High halls to be strictly representations of achievements in athletics rather than academics? Are we making as much of an effort as a school to get letterman jackets to academic heroines as we do athletic?
In reality, it may not be due to any lack of importance directed to academics, but a lack in advertisement of this reward program to Roy High's student body. Teachers Ryan Waite, Michele Kersey-Smith, Jason Grunander, and Ashley Strong agree that teachers themselves aren't doing a good enough job to promote the ability to letter in core classes than they could be. Grunander said that, "We probably could do better. We post it in all of our rooms but we could probably verbally talk about it more."
When asked what lettering is most frequently seen throughout school, student and junior class officer Katie Smith responded with, "Football, track, as well as soccer." Another response she gave regarding this questionable crisis was, "I have never before seen a person letter in academics, but I think it would be good to see in the school to diversify the students who do attain jackets."
The requirements to achieve a letter in a core class are easier to accomplish than most students may know, Kersey-Smith stated that, "I think kids are doing it, I just don't think they know they've done it. They just need to get the requirements from each department, and then just solidify that and get that letter."   
If you're interested in lettering in academia, below are the requirements for each core subject:
Math
Place in the top three for the year in school on the National Math Test.

Score 27 or higher on the math portion of the ACT exam.

Be selected as the Math Sterling Scholar for Roy High.

Successfully complete (with a B+ average or better) any three of the following math courses: Sec Math 1, Sec Math 2, Sec Math 3, College Prep, Pre-Calculus, Calculus, and Statistics.

Qualify and compete in the State Math Test competition.

Take the Advanced Placement exam for Calculus (AB or BC) or Statistics.
AND MUST
Write a letter of application to the math Department requesting that the Academic Letter in Mathematics be awarded. Include in your letter what you have done to meet the requirements for this award. Where possible include verification ((i.e. a copy of the ACT results, a transcript of classes taken, etc.) A student will be able to earn at most one letter per academic year in mathematics.
 History
All A's in all of your Social Studies years: World Civ, US History, Government, Psychology, and Sport Psychology.

Pass the AP exam (World, European, Government, Psychology, and US).

Letter A grade in all 4 terms in your concurrent enrollment class.
 AND MUST HAVE
No N's or U's – must be a student who is in good standing. (You can earn this award each year).
Science
Compete in the Science Fair at the Region/State level.

Participate in approved MESA (Mathematics Engineering Science Achievement) Competition at the Region/State level.

Complete and present an approved science research project before a review board.

Participate in Science Olympiad.

Participate in Academic Olympiad or an equivalent competition.
AND MUST
Complete the equivalent of at least three full year science classes (6 semesters) in grades 10-12 with a grade of 3.0 or better in each science class.
         English
(You must accumulate a total of 20 points.):
Quarter grade of A- or higher in any English class (½ point).

Quarter grade of A- or higher in any advanced English class (¾ point).

Member of editorial staff or school paper, literary magazine, or yearbook (5 points per year).

One or more pieces of writing published in school paper, literary magazine, or yearbook (5 points per year).  

Writing accepted for publication outside of school (Local = 3 points, State = 5 points, per piece of writing). Note: a single piece of writing may not receive points on more than one level.

Placing 1st, 2nd, or 3rd, in writing contests or major forensics competitions (School = 3 points, Region = 10 points, State = 15, points per contest).

Honorable Mention in writing contests (School = 3 points, Region = 6 points, State = 12 points, per contest). Note: a single piece of writing may not receive points at more than one level nor in more than one category.

Seven thousand five hundred pages of outside reading from five different authors in any genre (5 points), list (5 points). Reading must be reported with title, author, and number of pages to your English teacher.

ACT scores of 22 or better in English and Reading. (5 points for each test).

Selected as Roy High English Sterling Scholar award.
The benefits from lettering in academics as well as athletics, is that students who do receive these awards will have a greater chance of being noticed when applying for college. As a result of having these awards on a transcript, those recruiting a specific student will be notified of their drive in the core classes they admire and thrive in. Strong noted that, "I think the letter is taken into account, and I would say that is true in all common core classes; it is something that boosts you."
All in all, Roy High's program of lettering in academics is an extraordinary way to get recognized for one's intelligence in math, science, english, and history, and their dedication to prosper in all they do. As Grunander said about the academic lettering program, "It's a good thing to push, it is a very good thing to push."   
Should you have any questions regarding this program, or any way to qualify for such awards; contact your core class teachers and see what you can to do earn a letter in your core classes.