by Jessi Byram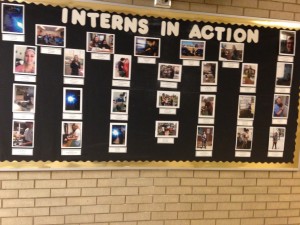 Dayna Thompson, the CTE office secretary for 10 years at Roy High School; Ryan James, an Applied Arts teacher at Roy High School for 13 years; Mr. Swalberg, Principal for 18 years at Roy High School and Roy Jr. High School; All three of these people help to make Roy High School function in everyday life.
They all agreed that the internship program is extremely important. "Not only helps you see that career in action, and meet people that have been working longer and you might work with,"Thompson said. "The internship helps you see the career from all angles,"James said. Mr. Swalberg noted regarding the internship program, "It helps with real life experiences because it gives students practical practices and experiences that can help kids decide if this is the area they would like to learn more about."
When asked if these three Roy High authorities would recommend getting involved in this program,  all three said that they would highly recommend it. If a job is looking for an intern then you can set it up through the district, then they can give you a packet in which will help you with the internship process. Once that is finished, then you will be placed in any opening that may or may not become available.
When Mr.Swalberg was asked if he would change anything about the program he replied, "To get more students involved with the internship program." When James was asked what he would change about the program he replied, " every student had an internship."  Internship programs have been in place for a very long time. According to Thompson, there has in a program in place in , "Every school in the Weber District in the last two decades."