by Jayda Rochell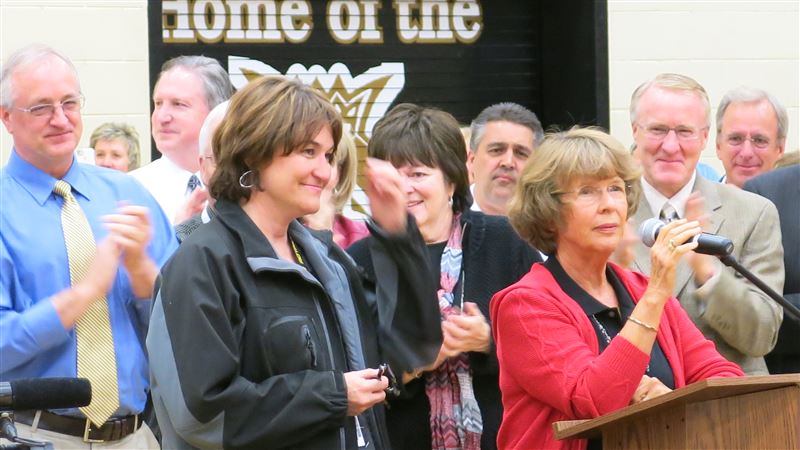 Let's pretend for a moment that we are the principal, shall we? Okay now you have to figure out how to deal with rebel teens, teacher problems and the logistics of review and reward time. What are you going to do? Well, you could always go ask Ms. Gina Butters.
Ms. Butters has been the principal at Roy High for six years. Long before that, Ms. Butters graduated from the University of Utah where she even played basketball on a full ride scholarship and eventually became the head coach. All that know her can hear her enthusiastically exclaim "Go Utes!"
Ms. Butters never knew she wanted to be a principal. She said, "I never imagined that I would become a principal but I have always known I wanted to work with kids. Being a principal just kind of found me."
She added that there was one person who helped guide her into this profession. "I had a principal that inspired me," Ms. Butters says. The principal was from Fremont High School and his name was Mr. Reed Newey.
Ms. Butters has been a principle for about eight years but before then she was a high school teacher for 13 years at Roy High and at Fremont High. She taught Psychology and was also the head coach of girls' basketball for Roy and Fremont.
Ms. Butters has been involved at various schools in different capacities. With all this experience, she still claims that "Roy High School is definitely my favorite school."
A question that had to be asked was if she has done anything crazy or what is something crazy she'd want to do. She responded by disclosing how she "went on a 50 mile backpacking trip in the wilds of Wyoming for two weeks" while adding that "something crazy I would like to do is climb Mt. Everest."
Ms. Butters is not married and she doesn't have kids but she has three dogs (two golden retrievers and a black lab) which are like her kids. Ms. Butters was asked what she likes to do for fun and she said "I am an outdoor freak. I love to go biking, fly fishing, go on hikes with my dogs and I also enjoy crafting. Cross stitching is what I'm into right now but I also want to learn how to crochet."
While she may just seem like the intimidating principal, she also has some stories and secrets to share. She shares, "I do not have any tattoos but I almost did." Adding onto her story, she states, "Some friends and I were at the tattoo shop and last minute I couldn't go through with it." Smiling, she admits "that doesn't mean that I wouldn't consider getting one."
Despite the challenges and obstacles her job requires, Ms. Butters enjoys every second. "My favorite part of the job is talking, getting to know my students and sharing mutual stories. I really enjoy working with kids and teens." She also adds that "My favorite students are ones that have been through a lot but work hard to succeed and finish. The ones who go through hard things but still push forward and get through it."
Like Ms. Butters, we all should "Do the stuff you want to do and have no regrets."