by Cheyenne Varney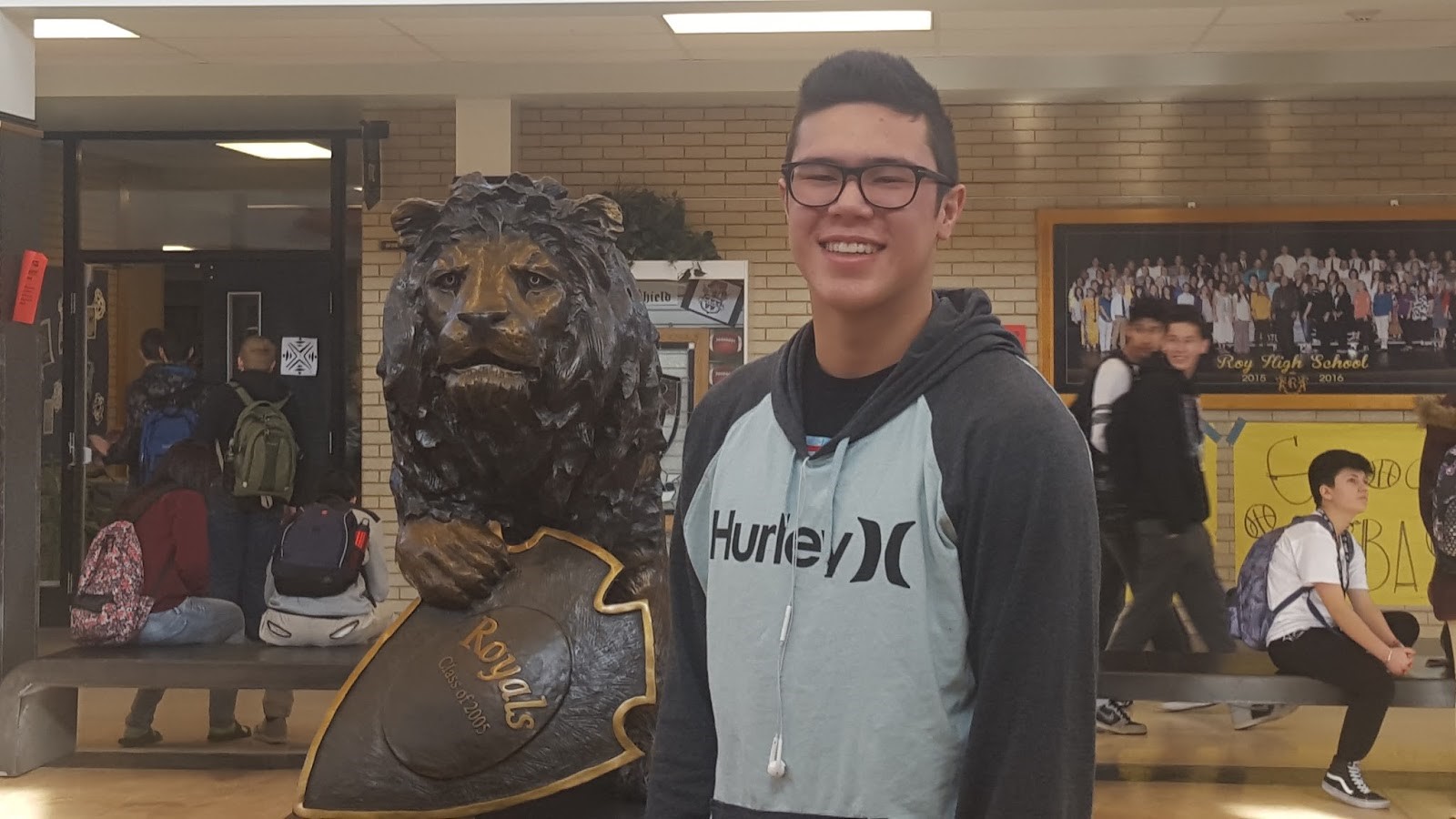 "I wrestle because it's the hardest thing you can do, and I like to push my limits," said Kai Chenoweth, a sophomore for Roy High who wrestles varsity. Sixteen-year-old Chenoweth wrestles at 174 lbs. in his weight division.
Everyone does something because they have aspirations to do it and others inspired them along the way. That's true for Chenoweth. Some of the people that inspired Chenoweth to wrestler are Bruce Lee, Muhammad Ali and John Cena because "you know, John Cena is pretty rad" Chenoweth said. He did admit that his dad is probably his greatest motivation "because my dad has always taught me the hardest things in life are the best things in life. It really shows through (in) wrestling how crappy life can get but it always gets better. Eventually, you know, it pays off."
With all the strength and hard work it takes to be a wrestler, I asked Chenoweth what practices and his routines were like. He chuckled and said that after school he goes through warm ups, a lot of running, drills, conditioning, pushups, sit-ups, pull ups, rope climbs and burpees. Then he does tire flips and hammer swings. "It's so hard and then to top it off, it's the greatest thing ever.  At the end (of all the conditioning) you get to wrestle. As if you're not exhausted already, you get to wrestle your other friend who is just as tired as you and one of you has to win. Then back to conditioning. Dude, conditioning is the worst, it so hard."
Another challenge Chenoweth has found is preparing to win every match. "The hardest thing is just to convince yourself that you're going to win every time." He adds, "For me self-confidence has always been a problem in wrestling because I always think that just because I'm an underclassman that I'm going to get destroyed. All these kids have experience but my coaches say that if I just believe in myself I'll destroy (my opponents) and I'm doing pretty good this year." Not only is self-confidence an issue for you and me, it's also a challenge for athletes.
Chenoweth is one of the most self-confident people I know, but on the mat it may be a little harder to keep that confidence up staring at the opponent that may make or break your winning title.
At wrestling meets and at practice, Chenoweth and the other wrestlers spend a lot of time together where they get to know each other and motivate each other. This can create quite the bond. Chenoweth said, " We're like a bunch of brothers that love each other and hate each other at the same time." Later on he added that, "Once you bleed, sweat, cry and fight with each other, I mean you have to be brothers. I mean there's no other way. You can't do those types of things and just be casual about that kind of stuff." This sounds like they are a pretty tight group where if you mess with one, you mess with them all.
When the wrestling season first started Chenoweth was wrestling for Junior Varsity.  For a while he would ask "Should I go up to Varsity?" Ultimately he decided, "You got to be a champion."  "I'll be honest I was okay with being JV. My friends kept trying to convince me that I was good enough every single day for like a month and a half. They would lecture me on how I needed to go Varsity and I kind of gave into peer pressure and I'm glad I did. It's a real rewarding experience to beat the best of the best." He also added that "Wrestling is not something for the light hearted, I mean, every single wrestler wants to quit all day, but the second you get on the mat it all goes away. It's all worth it to kick the crap out of whoever you're going against. "
One of Chenoweth's favorite memories with the wrestling team is the 12 hour practice. "It was an 'I'm going to beat you into the ground until you die and then we're going to make your dead body move' type of workouts." But all the hard work, long days, and practice is worth it. Chenoweth said, the "best thing (about wrestling) is the bus ride home. Coming home from a win, everyone goes ham."
Some special thanks he'd like to give are to Coach Dan for pushing him and working with him. Also last year's coach, Coach Brown, had a big impact on Chenoweth. He said, "I wouldn't be wrestling today if it weren't for Coach Brown." Chenoweth added, "I wanted to quit everyday so bad but he just always told me I can do it. He just pushed me to be better." Luckily for Chenoweth and the Roy High wrestling team, but unfortunately for his opponents, it's all paid off.