by Makayla Demesa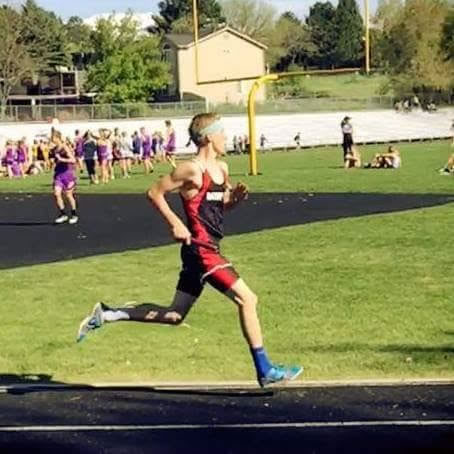 Jesse Owens, Steve Prefontaine and Grete Waitz were all famous runners. But what do they all have in common besides being some of the best athletes the world has ever seen? They all ran with a passion, just like Roy High sophomore Curt Crossley who drops times daily.
 Crossley played soccer in seventh grade until his dad recommended he try track. Curt wasn't a natural born runner as he claims, "I was really bad at it." Yet, with persistence, his mile time came down.
A few years later, things really started to click. In 9th grade, Curt decided to quit soccer and run Cross Country instead. In the summer of 2014, Curt ran with the high school as a freshman and started competing more as his times kept dropping. By the end of his freshman year his 5K (or 3.1 miles) time was down to a 17.36. Currently, Curt is still dropping times. His PR from last year was one minute and six seconds faster; Curt's fastest time for the 3.1 mile is 16 minutes and 30 seconds.
His times are great, but what is the reason behind Curt's love for the sport? "I like running because it is the one area that I feel better at than most people" Curt says. "I don't do anything outstanding besides running" he says.
Curt's motivation for the sport is his dad since his dad is the one who introduced the sport to him and is so involved in his athletics. An athlete that inspires Curt is Steve Prefontaine because "He ran with passion and a fury people couldn't match." Curt adds that "even if he didn't place in the Olympics he was (also) an amazing man." Crossley would like to work just as hard as Prefontaine but he has learned the hard way that "Wearing yourself out isn't always the best way to improve." Curt has pushed himself too hard, to the point where he has gotten injured from overexerting himself. "You have to know your limits, know when it's the right time to push past them, and when to hold back, so you can get the best results when you need them."
Just like Steve Prefontaine, Curt is accomplishing some amazing things of his own this year. During the fall 2015 Cross Country season, Curt was a varsity runner and took Top 10 in all of the regional meets. By the end of the season, Curt qualified to run in the state meet against the best in the 5A region. Once the Cross Country season officially ended, Curt started training for the Junior Olympics National Meet which was held in Albuquerque, New Mexico on December 12.  
With over 200 runners, Curt laced up his Nikes and placed in the Top 25 to secure his title as a Junior Olympic All American. His time was 17:42 but he placed 18th overall. "I'm so grateful for all the friends, family and coaches who helped me become better" he said happily after this meet.
The Junior Olympics was founded in 1878 and was named the Amateur Athletic Union (AAU). In 1992 the name was changed to USA Track & Field (USATF). For the Junior Olympics you have to go to a regional meet, which was held in Provo, Utah this year. "The (Provo) meet was actually very small," Curt says. "20 years ago the Junior Olympics was one of the biggest races until Footlocker and Nike took over" he adds. Since then the meets have gotten smaller but if you qualify during the regionals you go onto nationals.
As for Curt's academics, he maintains a 4.0 GPA. He is a phenomenal athlete as he also participates on the swim and track teams as well. Since he is just a sophomore, he has two more years to continue to race through the competition, drop time, and eventually achieve his goal getting recruited to run for BYU.